Obviously, I haven't yet mastered the art of working on projects and blogging about them at the same time. Or mastered the art of actually doing something (anything!) after putting the kids to bed instead of collapsing on the couch. In any case, I have been doing stuff, I just haven't put fingers to keyboard until now.
I was so inspired by
Kate's post
on the versatile $40 Ikea Vittsjo that I had to do my own version. This took quite awhile + many cans of spray paint because I originally went with gold before switching to my
bronze
standby. I put the shelf in the
living room
on this wall where it replaces the large map.
Help me out with the styling, guys. Globes, yes or no?

If you make over your own Vittsjo, let the paint dry completely before inserting the glass shelves. I also painted on a protective lacquer (using a sponge brush) that I found in the garage for some extra protection. Also, try inserting the glass shelves from the front and laying them down gently, first one long side and then the other, rather than from the end. you'll have more control and the glass will be less likely to scratch the paint.
$40 (+ paint) is a bargain, no? Especially when you consider these shelves from Room and Board that I was eying for a while. Only $509 : )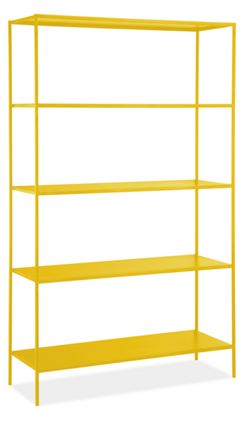 I other news, I bought six more frames from Ikea, popped in some more Amy Butler scrapbook paper, and am trying out the "whole wall look" in the
dining room
. There will be twelve frames in all in rows of four.
Actually, I'm not trying it out. It's staying forever because the measuring was so tedious for me and the Command Strips I used this time are expensive!
Worth it, though, as hanging these frames in a grid using the included wire is next to impossible. Also, I'm trying to avoid multiple holes in the wall which is the reason this project has stalled. I realize there were holes from the previous arrangement and no more paint to be found. Off to SW this afternoon for the 30% off Spring sale!